You're enterprises with heaps of data just begging to be put to work. Maybe you're already eyeing generative AI, or perhaps you're just starting to explore. Whichever stage you're at, we're ready to roll up our sleeves.
We often begin with conducting a gen AI "audit" of how you build value in what you do. This involves evaluating relevant tech infrastructure, determining how you engage with key stakeholders, and exploring how open-source and low-tech optionsthat can help you shake loose the 'low-hanging-fruit' by implementing simple, high-impact, low-cost, low-risk applications of genAI. We then launch a genAI experiment (or three!) to pilot a small number of compelling use cases, and track results before refining for a broader implementation.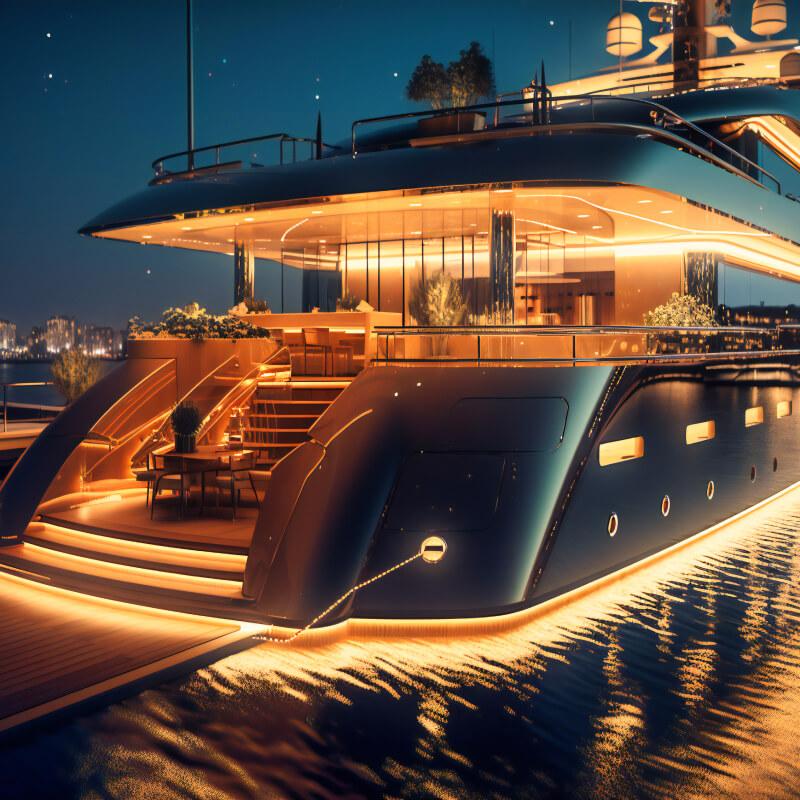 The word 'process' doesn't quite sit right with us, it sounds so... clinical. We prefer 'adventure', and we've broken down the journey that we outlined above into 5 typical phases that we'll embark on with you:
You share your dreams and challenges with generative AI, and we share our vision for your success.
We begin uncovering the true essence of your product, service, or experience. What makes it tick? What does success look like? What's your favorite sailing attire? (Okay, maybe not that last one:)
We tailor an approach that fits you like a glove, choosing from a variety of pricing, deployment, and staffing models.
To deliver the value we agreed on we pull in other AI wizardry as necessary. Of course, we bring our particular approach to establishing guard rails to keep data that is sensitive or proprietary out of the fray of access by public models.
We're always fine-tuning to ensure we're spinning that virtuous cycle of excellence with you. This extends to setting a high bar for verifying outputs, especially where content and outcomes will be externally facing.
TERMS OF USE
Welcome to Veryverse.ai
THESE TERMS AND CONDITIONS (THE "TERMS") ARE A LEGAL CONTRACT BETWEEN YOU ("YOU") AND VERYVERSE (HEREINAFTER "Veryverse" "WE," "US," OR "OUR"). THE TERMS EXPLAIN HOW YOU ARE PERMITTED TO USE THE WEBSITE LOCATED AT THE URL: HTTPS://Veryverse.ai AS WELL AS ALL ASSOCIATED SITES LINKED TO HTTPS://Veryverse.ai BY USINVENTIT, OUR SUBSIDIARIES AND AFFILIATED COMPANIES (COLLECTIVELY, THE "SITE"). UNLESS OTHERWISE SPECIFIED, ALL REFERENCES TO THE "SITE" INCLUDE THE CONTENT, SERVICES AVAILABLE THROUGH THIS SITE (THE "SERVICES") AND ANY SOFTWARE THAT WE PROVIDE TO YOU THAT ALLOWS YOU TO ACCESS THE SITE FROM A MOBILE DEVICE (A "MOBILE APPLICATION"). BY ACCESSING OR OTHERWISE USING THIS SITE, YOU ACKNOWLEDGE THAT YOU HAVE REVIEWED AND ARE AGREEING TO BE BOUND BY THESE TERMS; IF YOU DO NOT AGREE WITH ANY OF THESE TERMS, DO NOT ACCESS OR OTHERWISE USE THIS SITE, ANY SERVICES AVAILABLE THROUGH THIS SITE OR ANY INFORMATION CONTAINED ON THIS SITE. PLEASE READ THESE TERMS CAREFULLY, AND KEEP A COPY OF THEM FOR YOUR REFERENCE.
NOTE: THESE TERMS CONTAIN A DISPUTE RESOLUTION AND ARBITRATION PROVISION, INCLUDING CLASS ACTION WAIVER THAT AFFECTS YOUR RIGHTS UNDER THESE TERMS AND WITH RESPECT TO DISPUTES YOU MAY HAVE WITH US. YOU MAY OPT OUT OF THE BINDING INDIVIDUAL ARBITRATION AND CLASS ACTION WAIVER AS PROVIDED BELOW.
The Site is a platform for activities related to the exchange of technology and intellectual property rights in software, data, models, and other materials that may have rights reserved.
General Use
By using this Site, You represent, acknowledge and agree that You are at least 18 years of age, or if You are under 18 years of age but are at least 13 years old (a "Minor"), that You are using the Site with the consent of Your parent or legal guardian and that You have received Your parent's or legal guardian's permission to use the Site and agree to its Terms. If You are a parent or legal guardian of a Minor, You hereby agree to bind the Minor to these Terms and to fully indemnify and hold Us harmless if the Minor breaches any of these Terms. If You are not at least 13 years old, You may not use the Site at any time or in any manner or submit any information to Us or the Site.
We provide content through the Site and through the Services that is copyrighted and/or trademarked work belonging to Us or Our third-party licensors and suppliers or other users of the Site (collectively, the "Materials"). Materials may include logos, graphics, video, images, software, data, models and other content but does not include the Third Party Materials (as defined below). Subject to the terms and conditions of these Terms, and Your compliance with these Terms, We hereby grant You a limited, personal, non-exclusive and non-transferable license to use and to display the Materials and to use this Site solely for Your internal business use. Except for the foregoing license, You have no other rights in the Site or any Materials and You may not modify, edit, copy, reproduce, create derivative works of, reverse engineer, alter, enhance or in any way exploit any of the Site or Materials in any manner. You agree to observe and abide by all copyright and other proprietary notices, legends or other restrictions contained in any Materials and will not make any changes thereto.
If You breach any of these Terms, the above license will terminate automatically and You must immediately destroy any downloaded or printed Materials.
Mobile Applications
We make available Mobile Applications to access the Site via a mobile device. To use the Mobile Application, You must have a mobile device that is compatible with the mobile service. We do not warrant that the Mobile Application will be compatible with Your mobile device. We hereby grant to You a non-exclusive, non-transferable, revocable license to use an object code copy of the Mobile Application for one registered account on one mobile device owned or leased solely by You, for Your internal business use. You may not: (i) modify, disassemble, decompile or reverse engineer the Mobile Application, except to the extent that such restriction is expressly prohibited by law; (ii) rent, lease, loan, resell, sublicense, distribute or otherwise transfer the Mobile Application to any third-party or use the Mobile Application to provide time sharing or similar services for any third-party; (iii) make any copies of the Mobile Application; (iv) remove, circumvent, disable, damage or otherwise interfere with security-related features of the Mobile Application, features that prevent or restrict use or copying of any content accessible through the Mobile Application, or features that enforce limitations on use of the Mobile Application; or (v) delete the copyright and other proprietary rights notices on the Mobile Application. You acknowledge that We may from time to time issue upgraded versions of the Mobile Application, and may automatically electronically upgrade the version of the Mobile Application that You are using on Your mobile device. You consent to such automatic upgrading on Your mobile device, and agree that these Terms will apply to all such upgrades. The foregoing license grant is not a sale of the Mobile Application or any copy thereof, and We and Our third-party licensors or suppliers retain all right, title, and interest in and to the Mobile Application (and any copy of the Mobile Application). Standard carrier data charges may apply to Your use of the Mobile Application.
Using the Site and the Services on the Site.
You can simply view the Site and not use any Services on the Site. You need not register with Us to simply visit and view the Site. However, in order to access certain password-restricted areas of the Site and to use the Services and Materials offered on and through the Site, You must register with Us for an account and receive a password.
Services
The Site provides Services of licensing or assigning rights in Materials such as software, data, and models provided by Third Parties ("Third Party Materials") subject to the terms selected by such Third Party ("TP Use Terms"). Veryverse is not liable for the performance of the Third Party Materials and any violation of the intellectual property rights of any party by the use of the Third Party Materials.
Your Account.
If You desire to register for an account with Us, You must submit the following information through the account registration page on the Site: [name, email address, and country of origin]. Once You have submitted Your account registration information, We shall have the right to approve or reject the requested registration, in Our sole discretion. If Your account is approved by Us, You will be sent an e-mail that contains a password that will allow You to log-on to the Site using that password (the "Site Password") for the first time You log into Your account on the Site to complete the account registration process. If You access and/or use this Site, You are responsible for maintaining the confidentiality of Your Site Password and for restricting access to Your computer, and You agree to accept responsibility for all activities that occur using Your Site Password. You may not assign or otherwise transfer Your account to any other person or entity. You agree to notify Us if any of Your Passwords on this Site are lost or stolen, if You are aware of any unauthorized use of Your Passwords on this Site, or if You know of any other breach of security in relation to this Site. You acknowledge that Veryverse is not responsible for Third Party access to Your account that results from theft or misappropriation of Your account. Veryverse reserves the right to, in Our sole discretion, refuse or cancel service, terminate accounts, or remove or edit content at any time, without notice.
All the information that You provide when registering for an account and otherwise through the Site must be accurate, complete and up to date. You may change, correct or remove any information from Your account by either logging into Your account directly and making the desired changes or contacting Us and requesting that we make the change.